Awlady: Jurnal Pendidikan Anak is peer-reviewer journal tha focuses on the issue of Islamic Early Childhood Education. Investigated the dynamics of learning of children at the Early Childhood Education (PAUD, TK, RA, KB).  
Awlady: Jurnal Pendidikan Anak is a periodically scientific journal published by the department of Islamic Education for Early Childhood the Faculty of Tarbiyah and Education Science IAIN Syekh Nurjati Cirebon. Publishing two times a year, every March and September and already have a registration number p-ISSN: 2541-4658 and e-ISSN: 2528-7427
Awlady: Jurnal Pendidikan Anak has been indexed by Crossref, Garuda, Moraref, Google Scholar, Indonesian Saintific Journals Database (ISJD), Science and Technology Index (SINTA), Bielefeld Academic Search Engine (BASE), Citeulike, WorldCat, Academic Resource Index, Indonesia One Search, and others.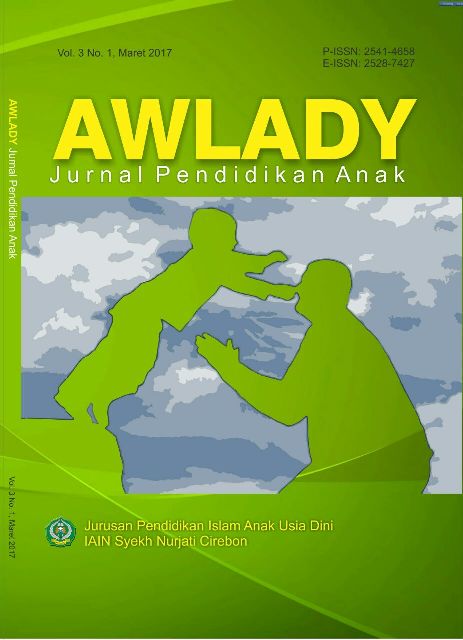 Announcements
CALL FOR PAPERS

AWLADY: Jurnal Pendidikan Anak merupakan jurnal yang dikelola oleh Prodi PIAUD IAIN Syekh Nurjati Cirebon, mengundang para peneliti, dosen, mahasiswa dan praktisi bidang PAUD untuk mengirimkan artikel terbaik hasil-hasil riset lapangan yang diterbitkan pada Vol. 8, No. 1, Maret 2022.

Penerimaan artikel sampai tanggal 31 Desember 2021.

Saat ini AWLADY sudah terakreditasi Sinta 3.

Selain itu juga telah terindeks Google Scholar, Dimensions, Moraref, Garuda, BASE, dan Crossref

Silahkan register dan submit artikel melalui

https://www.syekhnurjati.ac.id/jurnal/index.php/awlady

 

Terimakasih

Posted: 2021-09-08
More...
Vol 7, No 2 (2021)
Table of Contents
Articles